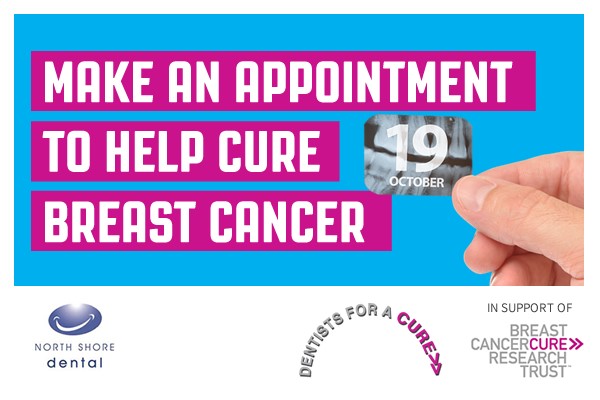 It was tough for the team at North Shore Dental here in Browns Bay, when 29 year-old colleague, friend and mother of three, Leigh, lost her battle with breast cancer in 2008.
Dentist, Gerard Skinner and the rest of the practice staff (30) had pulled out all the stops to fundraise for Leigh's treatment and offer support for her family, with a tally close to $45,000.
And while Gerard and his team put in a huge effort, they knew they wanted to do more.
Dentists for a Cure is their budding initiative, formed in 2010 to raise money for the Breast Cancer Research Trust, whose goal is to find cure for breast cancer by 2018. The strategy was simple North Shore Dental team volunteered their time on a Saturday in March and donated over $11,000, the total fees received, to the trust.
Now, North Shore Dental and eight other like-minded clinics will donate 100% of all net fees received (that's less GST) on one day, 19th October 2013, to the Trust.
With no funding and no media expertise, the team are facing a challenge to get the word out – to let the public know a visit to a Dentist for a Cure clinic on 19th October will not only be good for them, but in a significant way they'll be helping every New Zealander affected by breast cancer.
This year, Dentists for a Cure has set a goal to raise 30-50k. Unless all bookings across all ten involved clinics are full, they'll be hard-pressed to hit their target.
Yet the Dentists for a Cure vision gets even bigger next year. With a plan to roll out the initiative across the country in 2014, it's critical to inspire dentists now to register and come on board – and the team will be working as hard as they can to spread the word.