We are delighted to welcome Dr Cameron Roling to the team at North Shore Dental.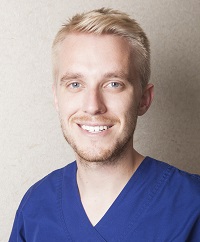 Cameron was born and raised in Auckland before heading down to Otago to complete his Bachelor of Dental Surgery. He has been working in private practice in Auckland for nearly four years.
He enjoys all aspects of dentistry, and is dedicating to providing high quality, aesthetic solutions for his patients. In particular, he enjoys providing cosmetic dentistry for his patients, as well as having an interest in endodontics (root canals), oral surgery and prosthodontics (dentures and plates).
Cameron is a member of the New Zealand Dental Association, as well as the Auckland Dental Association.
He understands that a visit to the dentist can be nerve-wracking for many, but through reassurance and listening to his patients concerns, he creates a relaxed environment to ensure each and every patient has a positive experience.